Hudson River Fishermen's Association Youth Angler Program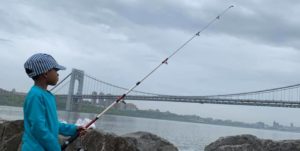 The Hudson River Fishermen's Association has been running a youth fishing program for many years.   We call it our HRFA Youth Angler Program (YA).   We always supply bait and tackle on our trips. 
In 2000 HRFA became involved with Hudson County Schools taking children on fishing trips out of Great Kills Harbor, Staten Island, NY on the 100 foot, 85 passenger party boat Atlantis Princess.  We would take 3 trips a year. Eight to 10 members helped with bait, rod, & reel use and as always a kind word for those that needed help.  We paid for the trips from 2000 to 2012. 
Due to finances we could no longer pay for these trips.   To continue these trips the children held fundraisers.   Atlantis Princess sunk in Super Storm Sandy.  We now use Captain John's boat, Captain John out of Keyport, NJ for our fishing trips.  The boat is well kept and friendly Captain John is perfect for children.  This year we had 3 trips taking 150 children from Hudson & Bergen counties. 
In Sept. & Oct. we will take Hudson County children to South Beach Pier, Staten Island.  HRFA also takes children from Rockland County School Boards of Cooperative Educational Services (BOCES) fishing at Piermont Pier, Piermont NY.  
From 2011 we have gotten very much involved with Bergen County Technical Schools Special Services.  We have 5 or 6 trips a year with this group.  All these trips are on the Hudson River at Englewood Boat Basin, Englewood Cliffs, NJ.  We will have as many as ten members helping out on these trips. 
At Christmas time we have a party for member's children and grand children at the Elks Lodge in Ridgefield Park, NJ, where we meet.  Every child gets a fishing related gift from Santa.  There is plenty to eat prepared by Tony DiModugno. 
Wayne Geider
Youth Coordinator
FISHING CLINIC