Special Projects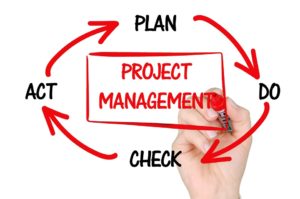 "The Little Patrol Boat that Changed the World"
Then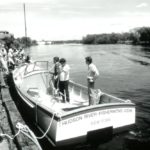 The H.R.F.A., founded in 1966, is credited with creating the world's first Waterkeeper Organization. In the black & white photo above is its 25-foot wooden Riverkeeper boat. It launched in 1983. Piloted by John Cronin, it was tasked with patrolling the Hudson for polluters. The current patrol boat, the "R. Ian Fletcher", has Capt. John Lipscomb at the helm. Its mission has been expanded to also serve as a floating lab testing water quality and research vessel.
Now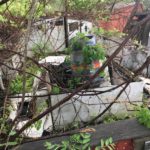 Sadly, the original Hudson River Fishermen's Assn's Riverkeeper boat lies all but forgotten; rotting away in the woods in Garrison, NY. We would like to refurbish her to her glory days when she became the world's first Riverkeeper vessel.
SOURCE: "The Little Patrol Boat that Changed the World" by Waterkeeper Alliance, Vol. 14, Issue 2.
This is a museum project that we will be sharing information soon!